White Mountain Total Skills Softball Camp
$185.00
Billy Kehoe of Scottsdale College & American Hitting Association and Chris Fraze from Blue Ridge High School lead the staff in the Total Skills Camp in northern Arizona. The camp will cover hitting, defense & pitching.
Please fill out registration form below and SUBMIT.
Description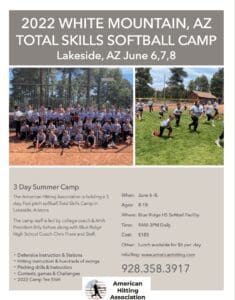 (Visited 30 times, 1 visits today)
Only logged in customers who have purchased this product may leave a review.